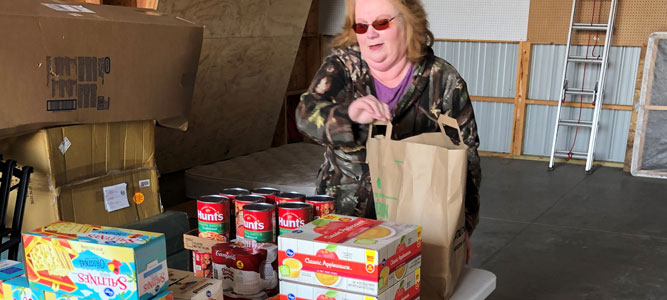 The Marshfield Child Advocacy Center is providing services to children and their families during this time of need.
Staff from Marshfield Child Advocacy Center are providing services to children from the Marshfield area that participate in their Resilience Clinic during the COVID-19 pandemic.
Research shows that during times of financial hardship and stress, social-emotional needs rise and children are more likely to experience some form of abuse. This effort aims to provide basic needs for these families in order to relieve undue stress.
Staff members are calling each participating family weekly to assess their needs and follow-up with a variety of services including:
Wellness check-ins:

Our staff will ask families if they have symptoms of COVID-19 and provide important information as needed. Caregivers also will be asked about social-emotional needs for themselves and their children.

School lunch delivery:

Families whose children attend schools in Marshfield from grades 4-K through 12, who lack adequate transportation or personal capacity to pick-up school lunches, will be offered this service.

Gift card support:

Families that have identified a financial strain resulting from the COVID-19 crisis may receive gift cards to use at Walmart or Kwik Trip.

Care packages:

Staple pantry items will be delivered to families whose caregivers have identified a lack of transportation or personal capacity to get groceries.

Emergency fund support:

Cash payments up to $500 will be offered to directly pay creditors of families who carry a significant financial burden worsened by the COVID-19 crisis.
Efforts are underway to expand services to reach more children and families in need through partnership with other Health System departments, Wood County Human Services and local school districts.
How you can help
These services are only possible through support from people like you and your gift to MCHS Foundation can help. Without your donations, children and families would not be able to access the support they need. Please give today to ensure that kids can get help in this time of crisis.
More Information