Bellowing cheers of "Ho! Ho! Ho!" Greg Cemke, otherwise known as Santa, stopped by Marshfield Medical Center on Dec. 15 with a sleigh full of gifts for patients at Marshfield Children's Hospital.
He also presented a $53,000 check to support the purchase of gaming systems, twinkle lights for the ceilings in pediatric treatment areas and bereavement resources for families.
Cemke works year-round to collect monetary donations and toys on behalf of his Christmas in July charity. In total, he has raised more than $220,000 for Marshfield Children's Hospital.
"Santa Greg is an angel. Over seven years ago he started the Christmas in July charity to help provide toys and monetary donations for items that are not included in the hospital budget," said Heidi Giese, Child Life Program manager. "Because of Santa – and his hard work all year long – we are able to provide special items and services to our pediatric patients and families to help make their medical experience a little bit brighter."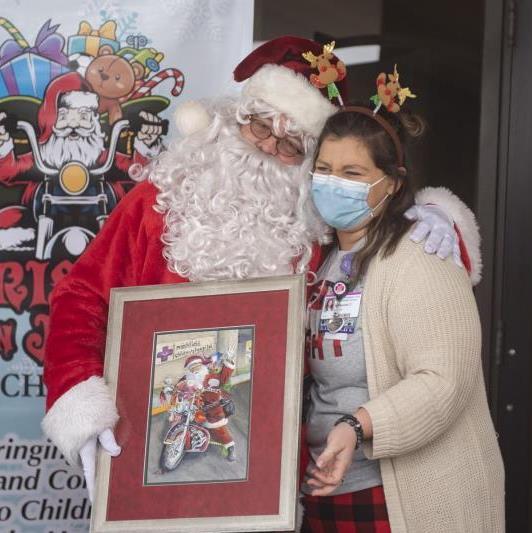 During his recent visit, the Child Life team presented Cemke with a special portrait of Cemke as Santa riding a motorcycle, which was created by the father of McKenzie Tischauser, certified Child Life specialist at Marshfield Children's Hospital.
"Without the generosity of Santa Greg and his donations our program wouldn't be able to provide the many things we do. His donations allows us to provide gifts to families during the holidays through our Santa's Workshop, ensuring the children get to open a present on Christmas Day," Tischauser said.

"Santa Greg's generosity doesn't end with his donations. He is one of our department's biggest supporters and is able to advocate for us to many businesses and community members. When your program is donation-funded, that extra advocating and teaching is sometimes larger than any donation."
Before returning to the North Pole, Santa walked along the sidewalk of St. Joseph's Avenue waving to pediatric patients who were eagerly watching from their windows.
Creating magic to bring joy even while in the hospital
After Santa's departure, music from the Polar Express soundtrack played throughout the halls of Pediatrics and Pediatric Intensive Care Unit. Giese served as train conductor going room to room spreading joy and punching golden "train" tickets inviting children to hop aboard to have a magical afternoon. Child Life & Expressive Services staff, clad in pajamas for the special event, served each patient hot chocolate and cookies and a copy of the Polar Express movie to watch in their room, for a COVID-friendly experience.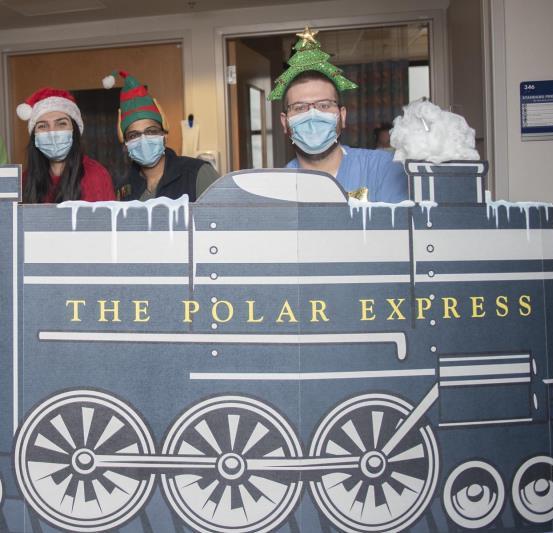 "Our Child Life team is amazing! They put so much thought, effort and creativity into everything that they do to make sure that our patients and families are able to enjoy the holiday season and provide a little normalization to their hospital experience. Everyone, including other medical staff, look forward to these special events," Giese said
Children received gifts from the Christmas in July charity and a Believe bell. In Polar Express, the Believe bell represents a belief in magic and joyful open heartedness. Patients in the hospital on Christmas morning will receive presents to help them celebrate the holiday.
"As a new nurse I loved to work the night shift on Christmas Eve because we got to be Santa," said Jennifer Halle, interim director of Women's and Children's at Marshfield Children's Hospital. "Over the years you learn to not wake the patients and families up during the night. But really you are training for that one special night when you get to bring in presents and set them out all over the room, only to wait in anticipation for them to wake up and see the gifts in the room. The gifts we give are due to generous donations like this."
Santa's Workshop supports families during the holidays
Families also have the opportunity to visit Santa's Workshop. This is an event, hosted by Child Life, where parents who cannot get away or haven't had time to prepare for the holidays, choose presents for their hospitalized child and other children. Volunteer elves, many of whom are Marshfield Medical Center employees, help wrap gifts to make the stress of the holidays a little lighter.
This event is possible through the generous support of the Christmas in July charity and other local groups and individuals. Events like these share the spirit of the holidays, and embody care beyond treatment to spread joy to children who have to spend their holidays in a hospital room.
More Information